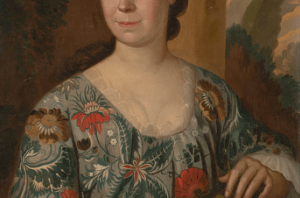 By Emily Bach, Class of 2022
The sitter eyes the viewer with flushed, rosy cheeks. Behind her, a surreal landscape of clouds, trees, and shrubbery twist and merge in an almost whirlpool-like manner that obscures the background. What remains in focus, instead, is the sitter herself and her exquisite textile. Unfortunately, the woman's identity remains a mystery, but analyzing her clothing entangles her in a story of traveling artists, cross-cultural encounters, and her own personal tastes and comfort.
An analysis of the flowered textile portrayed in the enigmatic portrait now residing in Winterthur's collection suggests that John Greenwood (1727-1792) likely painted the unidentified woman during his residence in South America.