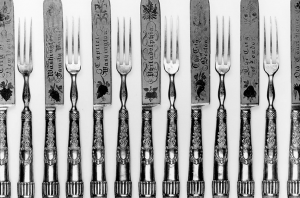 By Jena Gilbert-Merrill,  Class of 2022
A panorama on the blade of a knife is not something we are likely to encounter on our cutlery today. This set of forks and knives in Winterthur's collection, featuring cityscapes of Washington, Philadelphia, New York, Boston, and London, stands out for its unusual use of ornamentation. The cities, identified in Gothic lettering on the reverse of the blades, are accompanied by classical embellishment with decorative scrolls and sprigs of flowers, plants, and fruit.
This set was likely made in Germany sometime between 1830 and 1860, and was probably intended to be used for a fruit or dessert course.