Fellows do much more than read and look. The Winterthur Program curriculum provides an interdisciplinary and experiential approach to the study of material culture.
COURSE REQUIREMENTS FOR THE M.A.
HANDS-ON CURRICULUM — ALL CORE COURSES | MOST ELECTIVE COURSES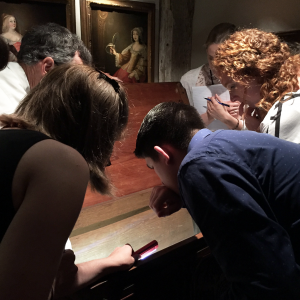 SPOTLIGHT:
Winterthur Museum Connoisseurship Courses
Fellows sharpen their analytical skills in connoisseurship classes, part of the core curriculum taught by Winterthur Museum faculty, during the first year. The Museum grants fellows handling privileges to study design, materials, fabrication techniques, tool marks, structure, surface finishes, use, and condition using its object and library collections—things that range from everyday objects to masterworks. Fellows also have access to outstanding specialists in traditional crafts through field trips to historic sites, collections, and artisans' shops. All core courses, including the connoisseurship courses, incorporate both hands-on and field-based learning.
THEORETICAL CURRICULUM — ALL DISTRIBUTION COURSES | MOST ELECTIVE + CORE COURSES

SPOTLIGHT:
University of Delaware Elective Courses
Fellows learn to think critically about objects through interdisciplinary coursework focused on historiography, theory, and historic context. Students select two University graduate seminars—usually in art history, English literature, history, or, with permission of the Director, other disciplines to fulfill the distribution requirement. The seminars selected must prioritize content, historiography, and interpretation. Fellows also select four additional elective courses based on career and intellectual goals. These courses may be in anthropology, art history, historic preservation, English, history, Africana studies, women and gender studies, museum studies, cultural geography, material culture studies, and other topics approved by the Director.
SCHOLARLY CURRICULUM — ALL COURSES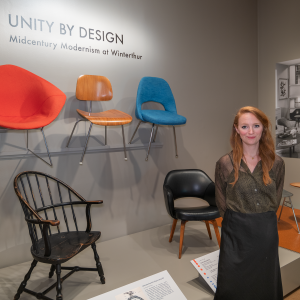 SPOTLIGHT:
Thesis Requirement

Fellows research a topic of their choice for the thesis requirement. This year-long project improves research and writing skills, critical thinking, digital scholarship, and content knowledge. The thesis can be a written document of 40-60 pages (not including title pages, illustrations, notes, and bibliography). Alternatively, the thesis can be a hybrid product that combines a creative, material, exhibition, or digital project and a required companion paper of approximately 20 pages (not including title pages, illustrations, notes, and bibliography). The paper introduces the thesis project and explains its argument(s), methodology, historiography, and scholarly contribution.
PERSONALIZED CURRICULUM — ALL DISTRIBUTION + ELECTIVE COURSES | MOST CORE COURSES

SPOTLIGHT:
Internships and Independent Study Courses
Some Fellows design an independent study or identify a semester-long internship to gain deeper content knowledge or professional experience. Fellows in the past have studied with scholars and leaders in the arts and cultural fields; assisted with material culture and decorative arts publications; cataloged collections, analyzed objects for auction houses or antiques dealers; and developed or curated exhibits. Resources in the Brandywine Valley, greater Philadelphia, and surrounding DC and NYC areas give Fellows choices regarding their independent study or internship project. An internship is required for students undertaking the optional Museum Studies Certificate.
EXPERIENTIAL CURRICULUM — ALL CORE COURSES + FIELD-BASED STUDY

SPOTLIGHT:
Field-Based Study Courses
Fellows experience collections, culture, and careers beyond the Museum through extensive field-based learning—within courses and as stand-alone events during summer and winter breaks. Stand-alone events include travel within the Northern US, the Southern US, and US Urban Centers, most often New York City. Course-related field study includes occasional day and overnight study for Connoisseurship and other Winterthur Program elective and cores courses. A core course in British Design History complements one-week of classroom study with two-weeks of field study in the United Kingdom. Occasionally, day or overnight enrichment trips are scheduled as opportunities arise. All travel-related costs, other than occasional meals, are provided by the Program.
PRACTICAL CURRICULUM — MOST ELECTIVE + CORE COURSES

SPOTLIGHT:
Professional and Practical Experience
Upon completing the Winterthur Program, Fellows will be fluent in a number of technologies that will enable them to share their work in engaging and accessible ways. They practice the digital humanities in most coursework and though the students' blog, Material Matters. They also engage the public by guiding visitors in the Museum, presenting their own research during coursework and at conferences, and publishing on-line. Some fellows pursue the Museum Studies graduate certificate (12 credits fulfilled through electives) to learn museum operations and management; topics include: historic properties and collections management; exhibitions; development; and museum education. Others pursue the graduate certificate in Historic Preservation (12 credits fulfilled through core and elective courses) through the Center for Historic Architecture and Design (CHAD). Both Museum Studies and CHAD at UD provide opportunities to work closely with future colleagues in other academic disciplines.
LEARN MORE ABOUT THE CURRICULUM