The Winterthur Program provides interdisciplinary study of diverse ideas, contexts, and theories—supported by truly unparalleled hands-on study of objects, landscapes, buildings, decorative arts, and design, both within and outside the vast collections of the Winterthur Museum, Garden & Library—so that all of our students may master the skills necessary to expand and confound predominant scholarship in material culture.
WINTERTHUR FELLOWS EXPERIENCE
INTERDISCIPLINARY LEARNING
INTERDISCIPLINARY LEARNING
Students engage
in both coursework
and field study
in all public humanities.
HANDS-ON STUDY
Students have access to renowned
public & private collections,
university and special collection libraries,
scientific laboratories, and multimedia design studios.
FACULTY MENTORING
Students build
life-long relationships
with distinguished museum
and university thought leaders.
PUBLIC SCHOLARSHIP
Students contribute to
ground-breaking scholarship
in public humanities
and material culture study.
PROFESSIONAL DEVELOPMENT
Students are exceptionally well-prepared
for careers in academic teaching,
art and antiques markets, consulting,
historic sites, museums, and preservation.
FROM THE DIRECTOR
Welcome to the Winterthur Program in American Material Culture.
Focused on the material world of America in historical and global contexts, the Winterthur Program addresses the complicated lives of objects, the way in which objects fostered human relationships, and how objects ranging from the seventeenth century to the modern era enable us to understand the past in all of its diversity, including the American material world created by black, indigenous, or people of color.
Students come from across the country and also from abroad, with diverse backgrounds reflected by a broad range of undergraduate majors. Our faculty are leaders and scholars in the various fields of curating and museum studies, art history, history, literary studies, anthropology, and archaeology. At both Winterthur and the University, field study and visiting researchers and professionals connect our students with faculty and colleagues around the world.
The Program's founding values in 1952—disciplined looking, analytical reasoning, careful recording, and even scientific testing—continue to shape the Program today. All Winterthur Program students have the rare privilege of handling objects in the Museum collection, encouraging our students to personally engage with a wide range of materials from many different time periods and regions.
Students select the Winterthur Program for its small size, cohort model, unparalleled level of mentoring, experiential learning, and its commitment to fully funding all students—all which have prepared our students for exceptional careers, for more than 60 years.

Martin Brückner
Director, Winterthur Program in American Material Culture
SOUTHERN US
Mid-June, second-year Fellows spend a week experiencing southern decorative arts, material culture, & ethnic communities.
South Union Shaker Village
NORTHERN US
In August, second-year Fellows spend a week experiencing four centuries of social, cultural, environmental, and political material culture.
Peabody Essex Museum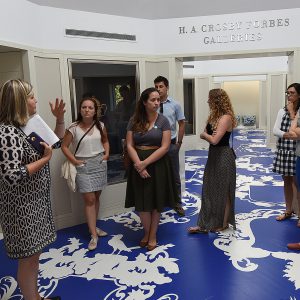 Unparallelled Hands-On Learning Beyond the Classroom
LEARN MORE
UNITED KINGDOM
In January, first-year fellows spend two weeks in London & surrounding areas, experiencing British design influence on American decorative arts.
The Crescent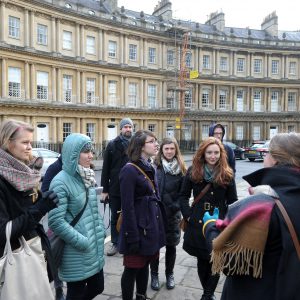 US URBAN CENTERS
In January, second-year fellows spend several days experiencing urban landscapes & material culture, with a focus on Americana, auction houses, & antiques.
Hispanic Society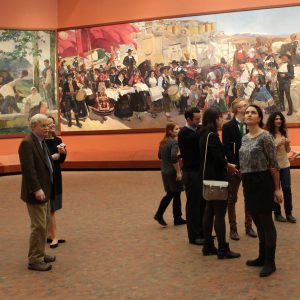 BEING A FELLOW and LIVING IN NORTHERN DELAWARE
100%
of enrolled M.A. students receive full funding—a generous annual fellowship grant (for living expenses) and full tuition scholarship—for their entire 22-month course of study.
90%
of graduates were employed or pursuing a PhD within 4 months of graduation in 2019, 2018, 2017, and 2016.
25 – 50%
of Fellows also earn professional museum experience and a graduate certificate in museum studies or historic preservation, in addition to their M.A.
80%

or more of current Fellows typically live within a 15-minute commute of renowned museums and cultural sites including Longwood Gardens, Brandywine River Museum of Art, Hagley Museum & Library, Mt. Cuba Center; Nemours Estate; Read House & Gardens, and of course Winterthur Museum, Garden & Library. The balance choose to live within a 15-minute commute of all major Philadelphia museums, archives, libraries, cultural sites, urban parks & gardens.
COST OF LIVING COMPARISON
THE FELLOWS' BLOG — MATERIAL MATTERS
Laura Schmidt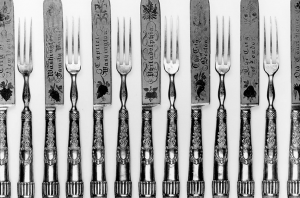 By Jena Gilbert-Merrill,  Class of 2022
A panorama on the blade of a knife is not something we are likely to encounter on our cutlery today. This set of forks and knives in Winterthur's collection, featuring cityscapes of Washington, Philadelphia, New York, Boston, and London, stands out for its unusual use of ornamentation. The cities, identified in Gothic lettering on the reverse of the blades, are accompanied by classical embellishment with decorative scrolls and sprigs of flowers, plants, and fruit.
This set was likely made in Germany sometime between 1830 and 1860, and was probably intended to be used for a fruit or dessert course.
Laura Schmidt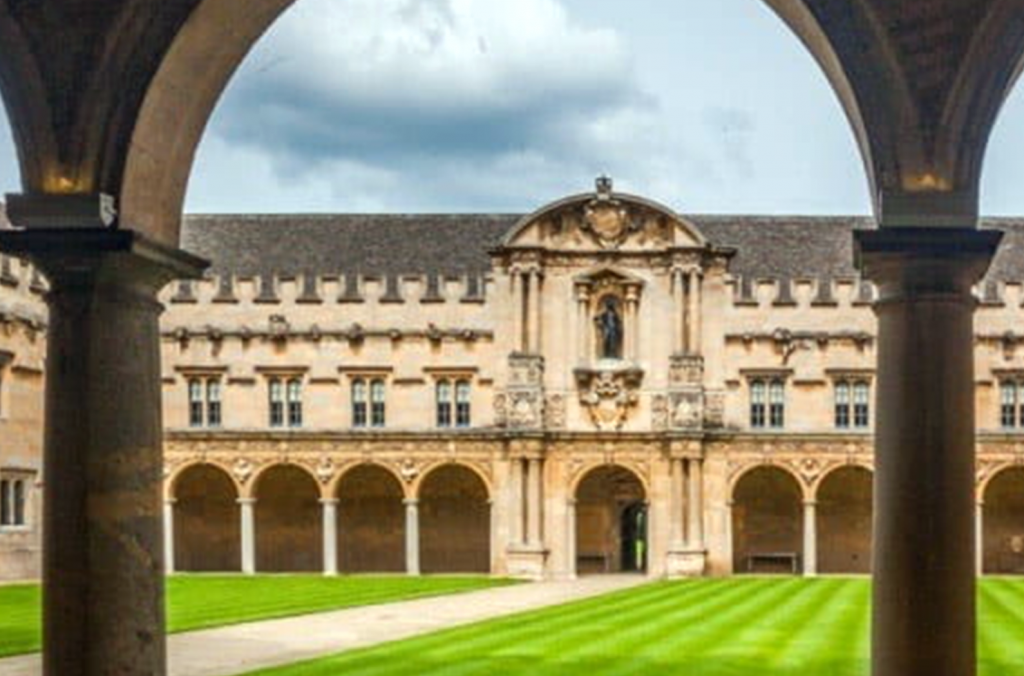 By Benét Burton, Class of 2021
A sign of good design is its ability to be reinterpreted. Whether conceptually, theoretically, or physically, a space that can be redefined is an indication of its longevity. In historic spaces such as Oxford University, good design is easy to find and easy to reinterpret. With Dr. William Whyte as our tour guide, our cohort explored the inner spaces of Oxford, the quadrangles of the institution that created the academic quarters that past and future scholars inhabit.
However, while these areas of academia were rightfully interesting, what caught my eye were not the well-articulated scholarly spaces but instead the ones just outside of its proximity.
Laura Schmidt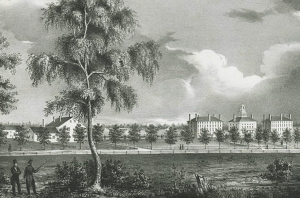 By Catherine Cyr,  Class of 2022
Tucked away in a storage box at the Winterthur Museum lies a lithograph depicting a picturesque view of one of New England's celebrated small colleges. Produced by the Thomas Moore Lithography Studio in Boston, Massachusetts between 1836 and 1837, the print features a view of a college campus consisting of multiple buildings. Small figures dot the landscape, reminding the viewer of the campus's human presence, while the large trees and vegetation in the foreground suggest that the current scene has transformed a once rural area. This idyllic scene is not an original image created by Moore's studio, but rather a reproduction of a painting by Esteria Butler (1814-1891) titled "View of Waterville College," ca. 1836-1837.
LEARN MORE ABOUT WHAT THE PROGRAM CAN OFFER YOU

Although Fall 2020 Visit Days are now completed, you may select any date below for more information.
We look forward to your visit in fall 2021!
APPLICATIONS ARE DUE TUESDAY, JANUARY 04, 2022